About us
Jadco Time is a family owned and operated business specialising in unique clocks and timers. We have been supplying digital clocks, calendar clocks, stopwatches and much more to our customers in Australia and New Zealand for more than 60 years.
The story so far
Melbourne businessman John Davey founded J A Davey and Company towards the end of the 1930s, the savvy manufacturers agent dealing in everything from electrical stoves to ladies hat pins.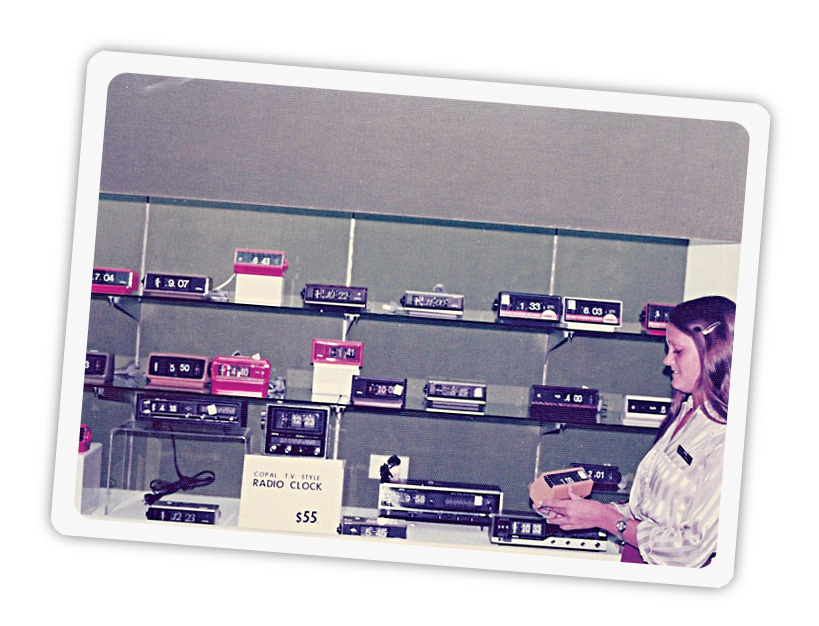 When the Australian population boomed during the 1950s and 60s, Davey identified a demand for small household clocks. He travelled to numerous countries in search of new models, including Japan in 1965 with his nephew Malcolm Chestney. It was there he spotted a Copal flip-card clock, one of the first to use the new form of digital flip card technology. Seeing the potential for use in Australian homes and businesses, he began importing the distinctive timepieces with great success.
More than 40 years later, the company name may have changed, abbreviated to Jadco Time, but it remains a family business, run by Malcolm's son Geoff Chestney and his wife Deidre. Together they continue to supply in-demand clocks and timers, with the product range still including the ubiquitous flip-card clock. The couple source products from what is now a unique network of international suppliers, while the customer base has grown to include schools, hospitals, sporting clubs, health professionals, even home cooks, for almost any timing requirement.
With more than 60 years and three generations of involvement, Jadco Time has built a solid reputation for quality products and honest, reliable service you'd expect from a committed family business.
Buying from Jadco Time
Because Jadco Time is a specialist business that supplies customers throughout Australia and New Zealand, it's not practical to have a physical store. This website has been designed to show you all the Jadco products with fact sheets you can download and true to scale printouts so you can see what the product will look like before your purchase. You can also download and print out catalogues of all our products in the "Download Catalogue" tab.
If you still can't find what you're looking for, just call us and we may be able to source it for you.